1990 Luciano Sandrone Barolo Cannubi Boschis $575
The 1990 Cannubi Boschis offers incredible textural richness and depth, with a finish that lasts forever. With time in the glass, the wine's inner perfume emerges, adding further dimensions of complexity and nuance. The 1990 Cannubi Boschis remains a benchmark wine for Sandrone (and Piedmont as a whole).
2006 Giuseppe E Figlio Mascarello Barolo Monprivato $185
The 2006 is an explosive Monprivato endowed with layers of ripe red fruit backed up by firm, muscular tannins that speak with great eloquence.
2015 Domaine Comte Georges de Vogue Musigny Cuvee Vieilles Vignes $750
This is a kaleidoscopically spicy with its broad-ranging nose of red cherry, cassis, plum, violet, Asian-style tea, sandalwood and hoisin. The velvety and mouth coating imposingly-scaled and intense mineral-driven flavors are also blessed with seemingly endless reserves of dry extract that coat the palate on the highly seductive finish that delivers fantastically good length on the youthfully austere, backward and immaculately well-balanced finale.

2013 Screaming Eagle Second Flight $650
Very bright and aromatic with dark purple fruits on the nose. Mint, floral and vine bark. Spearmint. Full body, very firm tannins, wonderful savoriness. Flavorful finish. A fabulous mouthfeel. Very, very long. Mostly merlot with cabernet sauvignon and cabernet franc.
2003 Domaine de la Mordoree Chateauneuf du Pape Plume du Peintre $550
1000 bottles and only produced four times in the life time of the estate. From old, old vines (70-100+ years) and 100% Grenache. 99 Points WA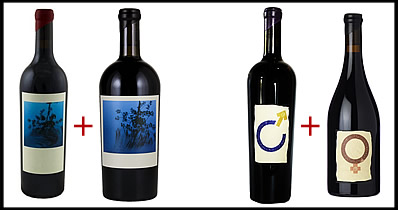 Magnum Sets of Sine Qua Non in Original Wood Cases!
2014 Sine Qua Non Shakti & Waterdance Magnums (1 each) in OWC ($1850)
100 points & 97-100 points
2013 Sine Qua Non Male & Female Magnums (1 each) in OWC ($1650)
98 points & 97 points
and in Original Wood Cases from Sine Qua Non:
Six-Packs of 2013 Sine Qua Non Grenache Jusqu' a l'os & Syrah Le Supplement (3 bottles each) $2800
Both received perfect scores (100 Points) from the Wine Advocate!