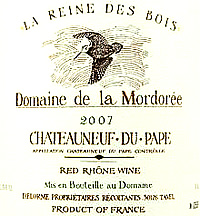 2003 & 2007 Domaine de la Mordoree 'La Reine Des Bois'
Chateauneuf du Pape
$115
Tasting Notes (97 points each!):
2003: Quite possibly the wine of the vintage, it shows thrilling levels of blackberry, licorice, toasted bread, and garrigue to go with a full-bodied, massive, yet layered and seamless feel on the palate. There's none of the rusticity or coarse tannin that's common in the vintage, and it possesses beautiful purity, sweetness of fruit and length.

2007: Inky ruby. The nose offers a highly complex, wild array of dark berry and floral scents, along with anise, herbs and smoky minerals. Utterly stains the palate with deep black and blue fruit flavors complemented by strong notes of lavender pastille and tobacco. Tannins come up with air but the fruit seems to suck them up. Finishes with a strong wallop of luscious blueberry and mocha and outstanding persistence. This looks to be one of the best wines of this superb vintage.