Let's being in the South with a benchmark producer in Abuzzo, Emidio Pepe:
2000 Emidio Pepe Montepulciano d'Abuzzo $240
2001 Emidio Pepe Montepulciano d'Abuzzo $220
2015 Emidio Pepe Pecorino Colli Aprutini $85
These wines were just released directly from the winery, wines that are more than a small part of Abuzzo history.


Here are a few of our favorites, all outlandishly amazing
2015 Ciro Biondi Etna Rosso Outis $40
2015 Benanti Nerello Mascalese $42
2014 Girolamo Russo Etna Rosso San Lorenzo $56
2014 Terre Nere Etna Rosso Calderara $58
2015 Arianna Occhipinti SP68 Bianco $25

2006 Giuseppe E Figlio Mascarello Barolo Monprivato $185
The 2006 is an explosive Monprivato endowed with layers of ripe red fruit backed up by firm, muscular tannins that speak with great eloquence.
2008 Paolo Conterno Barolo Ginestra 1.5Liter $148
Floral, intense, but suave and relaxed. This is a very agreeable wine that begs for leg of lamb
or grilled rib-eye.
2010 Matrojanni Brunello di Montalcino Vigna Loreto 1.5 Liter $195
Iron, smoke, savory herbs, graphite and tobacco lift from the 2010 Brunello di Montalcino Vigna Loreto. Dense and compact through the mid-palate and finish, the Loreto is distinctly brooding in the glass. Here the flavors are dark, bold and intense to the core. Time, Decant, Gift, it's a toss up, but we love this wine.

2011 Cerbaiona Brunello di Montalcino $225
Cerbaiona's 2011 Brunello di Montalcino is one of the protagonists of the vintage. There is no denying the sheer beauty and focus of this wine. It makes a fabulous first impact with super sharp tones of wild berry, cola, balsam herb, flint and crushed oyster shell. Those drying mineral notes leave a lasting impression. In the mouth, this wine is super elegant, tight and delicately nuanced. Simply put: wonderful!
2013 Roberto Voerzio Barbera d'Alba Vigneti Cerreto $34
What a track record this kind ole gentleman has. Superb wines on every level. Drink this one now or hang on to it for a decade. Lovely juice!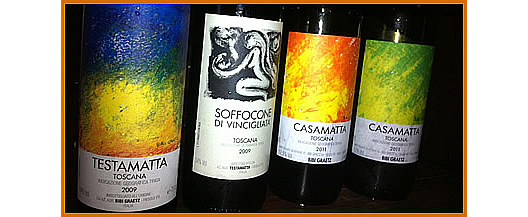 Oh, Bibi Graetz is out there! In a truly wonderful, hypnotic way.
We have his seriously sensational Toscana ($13),
his crazy 2014 Super Tuscan: Soffocone de Vincigliata ($48)
and his benchmark wine for Sangiovese: 2013 Testamatta ($116),
some would say THE cult wine of Tuscany.
(and if you've heard the rumors...they are true: he makes his wine in a castle).


OK...WHO MAKES PETITE SIRAH IN ITALY???
Lucio Gomiero does. That's who. And what a wine it is!
His gorgeous winery (and home) are in the Venetian Hills and it sounds as lovely as it reads.
The current vintage is 2009 Vignalta Agno Tinto Petite Sirah ($35)
grown on limestone and red clay soils. Gorgeous fruit, restrained, almost shy, and then look out!
Wonderful with grilled pork chops (last night's dinner with this wine in fact).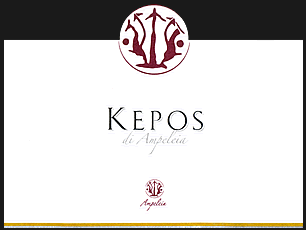 You may know Elisabetta Foradori. She's the 12th level Wizard of Teroldego (and there's only 10 levels)
SO WHY??? would you begin a GRENACHE project in Tuscany?
We didn't bother to ask. This is epic juice; clean fresh, alive.
2015 Ampeleia Kepos (Grenache) $22.50
More crazy on the way, so check your inbox in the days to come.