2019 Whitcraft Winery Pinot Noir Faîte de Mer Farms (Mendocino Ridge) $76
We were thrilled earlier this year to add to our shelves Drake's tiny production Pinot Noir from Jason Drew's biodynamic vineyard - Faîte de Mer. The vineyard located high up on the Mendocino Ridge is one of the coldest and longest growing season sites for Pinot Noir in California. We drank a bottle over three days and each sip was better, ever-changing, than the last. We think it's the best of the Whitcraft Pinot he's ever made. As Drake said late last year, this is his one Pinot he would label Grand Cru if such a task were possible. Bravo!


2019 Franck Balthazar Côtes du Rhône (France, Southern Rhône, Côtes du Rhône) $24.50
60% Syrah, 40% Grenache. One of the top growers in the Northern Rhone is Franck Balthazar, who left his engineering career in 2002 to answer the siren song of Cornas' steep granite slopes and take up the classic farming and wine-making methods of his father René. A dozen years later, Balthazar is creating some of the most expressive, and rigorously traditional, wines in Cornas.
The wine itself is deep vivid ruby. Lush and expansive on the nose, displaying intense red and blue fruit scents and hints of cola, dark chocolate and mint. Smooth and appealingly offering black raspberry and cherry notes with a touch of succulent herbs. A supple, long finish completes the notion of perfection here.
Also, the domaine's vineyards are planted exclusively to la Petite Syrah, the ancient local clone whose small, olive-shaped berries produce a wine of greater aromatic complexity than modern clones. Pretty cool!

2018 Domaine Pierre Guillemot Savigny-lès-Beaune 1er Cru Les Serpentières (France, Burgundy) $58
The Serpentières is arguably the quintessential Guillemot cuvee; prefect, classic Burgundy.
Decant for an hour then enjoy notes of smoky cherries, raspberries, rose petals, orange rind and warm spices. Medium to full-bodied, sumptuous and layered, it's lively and textural, with fine depth at the core, powdery tannins, and a perfumed finish. Très bien!

2019 Alain Graillot Crozes-Hermitage (France, Northern Rhône, Crozes-Hermitage) $46
We've carried this particular wine for ten vintages now. Every time we think Graillot has produced his most superb vintage, a better one comes along. What awaits for you in this bottle? Brilliance!
The opening act is a heavenly release of gorgeous aromas of dark, red, and blue fruit commingling with warm earth, graphite, pepper and spice. The medium to full bodied Crozes is utterly savory and unforgettable. The complexity is ever-evolving, the finish mesmerizing.
We've enjoyed this twice. Once with grilled wagyu tri-tip marinated with rosemary, garlic, thyme and black pepper. The second time we ceased dinner preparations and finished the bottle while watching the sun set.



2020 Weingut Keller Riesling trocken (Germany, Rheinhessen) $34
Keller's wines are some of the purest expressions of Rheinhessen's terroir and Keller is at the top. In fact Jancis Robinson has described the Keller Rieslings as the "Montrachets of Germany".
Hyperbole aside this wine is bone-dry, with piercing acidity and a long finish rippling with tension; it's deep, complex and racy. There's lots of rocky, mineral flavors complimented with citrus and floral notes to add complexity. The finish is long, balanced and intense.
We've written about the excellent 2020 vintage in Germany before, but it merits repeating: the wines are concentrated, but there's a level of finesse, and a delicateness to the wines, that we are just head over heels for.


2017 Poderi Aldo Conterno Barolo Bussia (Italy, Piedmont, Langhe, Barolo) $102
The 2017 Barolo vintage has been described as a 'modern-day classic', 'surprising', 'classically structured' and 'aromatically intense' by various professional publications. So we were intrigued when our allocation of Conterno's Bussia Barolo arrived. Lacking patience, we decided to go for a long decant and serve the wine with a grilled Piedmont Fillet Mignon courtesy of Metropulos (they carry these beautiful steaks most days. Ask for them).
First impressions were all about the aromatics. The room was filled with aromas of red cherry, red berry, plum, cassis…it was intoxicating. First sips combined all the elegant fruit notes wrapped in a subtle spice with faint hints of warm earth. There's an elegance and sophistication here that shines. The finish at first was faint, but by the time we were enjoying the last few ounces it had grown long and powerful. This is a wine that needs time but you will be rewarded.


2018 Domaine de Montille Meursault Saint-Christophe (France, Burgundy, Côte de Beaune) $94
Domaine de Montille and its winemaker Etienne de Montille are Burgundy insiders' go-to estate these days. The amount of press (all glowing) they've received is extraordinary. And for Santa Barbarians there's an added bonus: Etienne has partnered with Justin Willett (of Tyler wines) to produce Chardonnay and Pinot Noir under their Racines wine label (great stuff). As for this particular Meursault we have only beaming tasting notes. 'A classic expressions of Meursault' was one praise. 'Balanced, elegant, precise' was another. The wine reminded us of Meursault classics from decades ago. Nothing overt, everything impeccable. A show-stopping Chardonnay.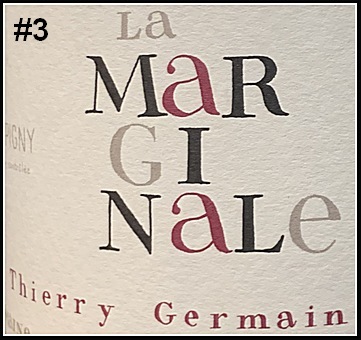 2019 Domaine des Roches (Thierry Germain) Neuves La Marginale (France, Loire Valley, Saumur-Champigny) $58
Thierry Germain's Cabernet Francs from Saumur Champigny are models of purity, finesse, and drinkability. This blend of parcels from the communes of Chacé and Varrains is only made in the best vintages, and sees the longest aging of Germain's reds—up to 24 months in a mix of older barrels and foudres.
With incredibly pristine, vivid fruit along with a deep, rich structure and silky-fine tannins, this red is a grand example of the heights biodynamic wines can achieve. If you like Cabernet Franc be prepared to fall in love with this one.


2020 Grosjean Gamay Valle d'Aosta (Italy, Valle d'Aosta) $25
Where to begin with our number two? How's about WOW! We'll get back to that adjective in a moment.
First: The Aosta Valley in the northwest corner of Italy is largely separated from the rest of the country by the surrounding Alps as well as by language (the region is largely French-speaking). The Grosjean family has cultivated grapes on the lower slopes of the valley for generations, and now five brothers are in charge of producing some of Italy's most fascinating wines.
Whoever had the idea of planting Gamay in these high altitude vineyards was a genius; WOW (and now the explanation). 'Wow' was our first exclamation when we tasted this wine. Its aromatics were unexpectedly pronounced; heady even. A few swirls and a sip revealed that there was something special in our glasses. Incredible layers of red berry fruit playfully entwined with the exotic (Chilean guava, gooseberry, cloudberries comes to mind). There's spice and savory notes that are insatiable. Then there's the finish: refreshing in its length as well as its indelible quality.
We've enjoyed this one many times these past few months. It pairs well with a cross section of dishes including salmon, pork, and roast chicken. We've even had it with pozole and loved every sip of it.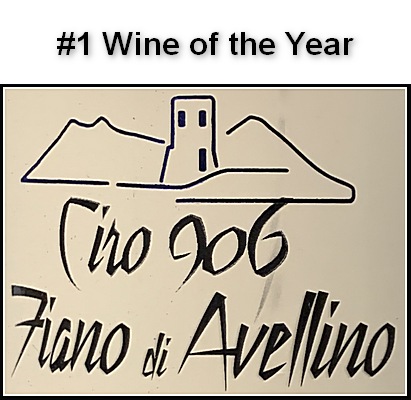 2019 Ciro Picariello Fiano di Avellino Ciro 906 (Italy, Campania, Fiano di Avellino DOCG) $38.50
The story we like to believe revolves around a tasting including the likes of Coche, Lafon, Dagueneau, and Raveneau. The Ciro Picariello importer slipped in this Fiano 906 to the line-up and 30 minutes later everyone had forgotten about the big names and were swooning over the Fiano 906.
Legend or myth it matters not.

Ciro's Fiano 906 is a wine that we recommended often and were delighted to find customers return for it again and again. This is a wine we took home most weekends to sip and share. We found it fantastic with oysters, scallops, ceviche, and even paired it daringly with lamb lion (why not?). There's something about the volcanic soil, the high altitude vineyard, and the grape itself that kept us reaching for a bottle.

From our tasting scribbles:
There are savory notes of near-ripe nectarine and peach, a flowery bouquet and hints of ginger spice. A saline-mineral timbre announces itself mid-palate (at this point we are already in love) then a vibrant energy takes over rocketing us to the stars. If the first half of this wine experience was a rocket ship, the finish is a leisurely stroll in a landscape painted by Caspar David Friedrich (The Monk by the Sea perhaps). The finale buzzes with dreamy Zen-like energy.
Yes, we are going to drink a bottle tonight!
________________________________________________________________________________________________________

It's one of our favorite 'work' tasks to look back on the previous year, review our tasting notes, and put together a list of our favorites. We hope you've enjoyed our Top 21.

If you are interested in any of these wines please email or call us and we can put an order together for you.

Happy New Year!
and
Thank you for your support

Renegade Wines
www.renegadewines.com

Share this email
Manage your preferences | Opt out using TrueRemove®
Got this as a forward? Sign up to receive our future emails.
View this email online.
This email was sent to [% member:email %].
Continue receiving our emails, add us to your address book.