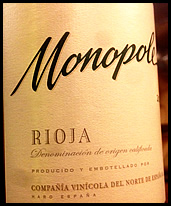 2013 C.V.N.E. Rioja Monopole Blanco (Spain, La Rioja Alta)
Before we discovered that this was the #64 wine of Wine Spectators Top 100 in 2014, we were already in love with this wine (their 2004 Gran Reserva was #1 in 2013). As you can see from their awards, C.V.N.E. (pronounced Coo-Nay) produces world class wines. The winery was founded in 1879 not far from the town of Haro in Rioja. This particular wine, Monopole, is the oldest white wine brand in Spain dating back to 1915. And what does C.V.N.E. stand for?
Compañía Vinícola del Norte de España.

The wine is 100% Viura (also known as Macabeo). It florishes in the hot, dry climate of Rioja, producing excellent fresh and lively wines. Typical of the varietal are notes of pear, Asian pear, distinct floral tones, and great acidity. While this wine is best consumed young, wineries such as Lopez de Heredia in Rioja age their Viura for extended periods to produce a wine of great depth & complexity. Viura is also has very high levels of antioxidants. Win-Win!



Hand-harvested, then a cold skin maceration which produces excellent aromatic extraction. After pressing, the must is allowed to fall naturally and then fermentation is carried out at cold, controlled temperatures in stainless steel tanks, to retain its aromatic freshness.
As for the wine: seductive scent of spring, white flowers and fresh tropical fruit. In the mouth nice and long, leaving a slight acidity that gives a feeling of freshness. A superb wine on a warm Spring day.

While all by itself, it is incredibly enjoyable, it pairs wonderfully with grilled shrimp, shellfish, polenta, pesto, and it's lovely with oysters Rockefeller (try this recipe). And if you're curious what Oysters Rockefeller is, here's a brief history and another great recipe.