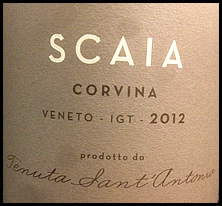 2012 Tenuta Sant'Antonio Corvina Scaia Rosso Veneto IGT (Italy, Veneto IGT)
Four brothers and a love of wine are the foundation of the Tenuta Sant'Antonio winery in Veneto. Although they had been in the wine business as constultants for years, it wasn't until 1989 that they purchased land and took the plunge. Every vine is tended to branch by branch, yields are kept very low, harvest & sorting are meticulously, with the resulting wine worthy of all their hard work. The other side to winemaking is marketing, and here they are equally brilliant as they currently export their wines to over 40 countries!

The wine is 100% Corvina, one of the principal grapes found in Amarone. Corvina can be a very complex grape with powerful structure, fresh aromatics with rich notes of plum, cherry, and black currant. Recent studies on the DNA of Corvina grape, discovered a distant genetic relationship between Corvina and Pinot Noir.



The brothers age this wine in stainless steel, stirring the lees once a week until malolactic fermintation is completed. The wine is then aged in stainless steel tanks for up to 9 months before bottling.
Flowery notes of red rose and sweet violet, fruity hints of cherry, wild black cherry, plum, fruits of the forest such as blackberry, redcurrant, blackcurrant and raspberry. We've enjoyed this wine many times and have noticed how the wine keeps evolving and changing from glass to glass. One classy wine!

Italian wines are made for food. This one will pair with any number of dishes but especially Porcini soup, sausage risotto, Chinese BBQ pork, & roasted leg of lamb. As for cheese, a nice mountain gorgonzola, Saint Agur, or Pecorino.
Follow this link for a recipe for sausage risotto, but substitute shitake mushrooms for porcinis and crimini for a more authentic Italian dish. As for the type of sausage, anything well work well except something really spicy.