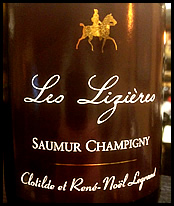 2012 Rene Noel Legrand Saumur-Champigny Les Lizieres (France, Loire Valley, Saumur-Champigny)
The appellation Saumur-Champigny is located in the Loire Valley on the South side of the river (Map of the Loire Valley), and recognized as a perfect area for Cabernet Franc. Domaine René-Noël Legrand is as picturesque an estate as they come. Surrounded by vineyards and fields of grain, their 18th century home is only upstaged by their 15th century cellars—carved into the limestone chalk known here as tuffeau. Their 30 acres of vines average 45 years of age with the oldest plantings from 1927. Everything is attended to by hand and farmed organically. The current vigneron, is the 12th generation to make wine at this noble estate.

Domaine René-Noël Legrand is all about Cabernet Franc as this wine reflects so of course this wine is 100% Cabernet Franc. This grape flourishes in cooler climates such as the Loire Valley producing aromas of ripe berry and sweet spices as well as graphite, and red licorice.



This wine is ideal with softer, milder cheese (Brillat Savarin, La Tur, Comte) but we also thoroughly enjoyed this wine with pan-roasted dry-aged rib eye Momofuku style. Roasted pork is another great option with this wine.