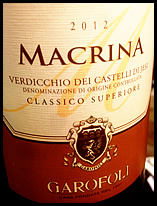 2012 Garofoli Verdicchio dei Castelli di Jesi Classico Superiore Macrina (Italy, Marche, Verdicchio dei Castelli di Jesi Classico)
Garofoli is one of the oldest wineries in the Marche (map), dating back to 1871 when Antonio Garofoli began producing wine for the local pilgrims coming to the famous church of Loreto. The family takes a traditional approach to their winemaking with very low yields to allow the unique terrior of Marche to shine through.

The wine is 100% Verdicchio from the appellation Verdicchio dei Castelli di Jesi Classico (it's a mouthful. This may help: vair-DEE-kee-oh day kah-stay-LEE dee jeh-SEE).
Verdicchio is a grape that tends to have high acidity allowing for a fresh, easy-drinking wine that is both refreshing and statifying. This wine from Garofoli had extended lees contact that adds depth, and allows for much more complexity than a simple everyday Verdicchio.

Grapes are picked by hand and fermented at low temperatures in stainless steel tanks. With extended lees contact, this Verdicchio is transformed from an everyday afternoon sipping wine to a wine that is richly complex and elegant with solid structure.
Tasting this wine you will find it has a layered fragrance of dried acacia flower, broom and beeswax, while the palate delivers a lovely depth of flavors that recall ripe yellow peach, lemon drop, tangerine and sage, with a hint of honey on the close.

A good friend of ours highly recommends this wine with seafood paella (here's a fantastic recipe from Jamie Oliver) but this wine would equally pair well with roasted sea bass dressed with lemon, garlic and butter, or this dish from Ca'Dario Restaurant in Santa Barbara: CIOTOLA DI MARE
Fresh clams, mussels and shrimp in a tomato and saffron sauce.