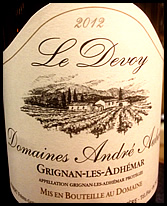 2012 Domaines Andre Aubert 'Le Devoy' (France, Southern Rhone, Grignan-les-Adhemar)
At the very heart of the Rhône Valley, at the northerly tip of the Southern Rhône, lie the vineyards of Grignan-Les-Adhémar (the name translates to "Land of the Geiger Counters". It's not a new wine region – vines have been planted here since around 500BC but it is a new name (formerly known as Côteaux-du-Tricastin). Andre Aubert has created stellar wines in the traditional Cotes-du-Rhone fashion that the critics and people like us have been raving about for the last three years.

The wine is a blend of Grenache 70%, Syrah 20%, and Carignan 10% and drinks exactly like a classic Cotes-du-Rhone wine. There's the rich body, the nice spice, the translucent purple color, the finish that is long and invites another sip.

What we love about this wine is that, owing to the location of the vineyards, it shares qualities with both Northern and Southern Rhône reds. It's supple and soft with lots of ripe fruit like those of the Southern Rhône but with an appealing freshness thanks to the Mistral wind. It also has peppery, spicy hints and a silky Syrah character akin to those of the north. The wine is fermented in stainless steel then racked into large neutral oak barrels and stainless steel tanks where it is aged for 9 months before bottling.

What doesn't this wine go with? Well, perhaps oysters and seafood. But what a versatile wine: roasted chicken, steak, lamb, mushroom risotto, and our favorite couple of pairings:
The chili burger at Brewhouse and Gino's Specialty Pizza #20, Arrabiata.