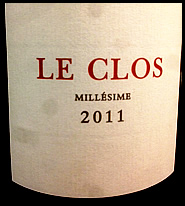 2011 Domaine Sainte-Eugenie Vin de Pays d'Hauterive 'Le Clos' (France, Languedoc, Vin de Pays d'Hauterive) A View of the Winery
The domaine was first established in 1906 and is situated in between Narbonne and Carcassonne in the Languedoc, in the celebrated Fontfroide district of AOC Corbières, perfect for creating wines of finesse and elegance.

The wine is a blend of 45% Merlot, 15% Cabernet Sauvignon, 20% Old Vines Carignan, 20% Grenache.
Each varietal adds a different character to the wine. Merlot for bouquet and fruit, Cabernet Sauvignon for fruit and liveliness, 60+ year old Carignan for structure and character, and Grenache for body and depth.

The grapes are destemmed, then an extended 20 day period of maceration. Each varietal is vinified seperately for 9 months after malolactic fermentation before being blended. The wine is then aged for two years in bottle before release.
Attractive raspberry red color with hints of garnet. Lively, complex nose of red and black fruits. Refined, even exotic, oak fragrance with hints of incense, spices (nutmeg, clove, ginger) anise, autumn woods and tobacco. Soft in the mouth with fresh, tangy acidity. Wonderful balance. Well-structured yet elegant, with fine tannins.

We had this wine, by chance, with a wonderfully rich duck terrine and we were all surprised how well they paired (try C'est Cheese for their excellent duck terrine).
Here's a very easy recipe for roasted lamb. The paste of olives, garlic and rosemary pair not only particularly well with lamb, but highlight some of the wines best characteristics.