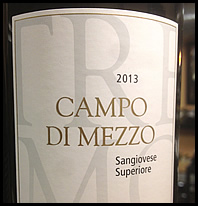 2013 Tre Monti Sangiovese di Romagna Superiore "Campo di Mezzo" (Italy, Emilia-Romagna, Sangiovese di Romagna)
The winery comprises two separate estates, one in the hills near Imola, the other in the hills of Forlì. The winery's total area amounts to some 55 hectares, all of it planted to vines. The winery's main facilities and administration are in the centre of the Imola estate, which lies in the Tre Monti (Three Mountains) area. The winemaking operations watched over painstakingly by the experienced and talented Vittorio Navacchia, are animated by a philosophy of minimal intervention.

Sangiovese is Italy's most abundant grape varietal. It is grown nearly everywhere producing wines that are great for everyday (like this one), and truly outstanding wines that can take decades to mature (Brunello comes to mind). Good-quality Sangiovese is prized for its high acid, firm tannins and balanced nature. Savory flavors of dark cherries and black stone fruit are a few of the characteristic of the varietal.

Campi di Mezzo is the everyday Sangiovese Superiore wine from Tre Monti. The wine is classified as Sangiovese di Romagna DOC Superiore because it's produced in the province of Bologna. The grapes are harvested then aged in stainless steel tank to preserve the fresh berry fruits and bright acidity of the wine. After 6 months in tank it is bottled and set aside for 3-4 months before sold.
Crisp dark fruit, with hints of sweet violets on the nose. On the palate the wine is fresh, soft, and fruity. This is a very enjoyable Sangiovese with velvety tannins and an enticing finish.

At Ca'Dario in Santa Barbara, order the Papparedelle alla Bolognese or try this recipe at home.
If you're in the mood for a little Peruvian, this recipe for Rocoto Relleno is delicious. But be sure not to make the dish to spicy or the wine will get lost. Roasted veal also pairs well.