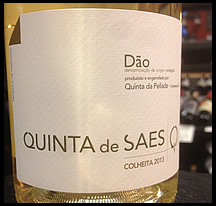 2013 Quinta da Saes White Blend (Portugal, Beiras, Dao)
Alvaro Castro is a true original in the world of wine and his two estates are among the leaders in the appellation of Dao, Portugal. The estate dates back to the 16th century and wine was made there until 1945, when the family reverted to selling to the local co-op. Alvaro took control in 1989 and established the winery at Saes and has been building a reputation for both red and white wines of great complexity and aging potential ever since.

The wine is a blend of Encruzado, Malvasia Fina, and Cercial, all native varietals to Portugal.

Encruzado is grown almost exclusively in the region of Dao. The grape itself has an excellent balance of acidity and sugar. Some of the aromas it contributes to this wine are rose petals, violets, light citrus notes. It also adds to the structure and weight of the wine.
Malvasia Fina also grown primarily in the Dao region, adds a bit of nutmeg, beeswax and even molasses to a wine. In this example, we didn't find much of a molasses quality, but an interesting smokey quality.
Cercial is grown in many region of Portugal and is probably most famous for its use in Madeira. Here, it contributes acidity and delicate aromas to the blend.

A classic food pairing with this wine would be one of Portugals most famous dishes: Bacalhau a Gomes de Sa, or Salt Cod with Onions & Potatoes (click here too look at a recipe).
Grilled seabass, crab, mussels, and clams also work very well with this wine.