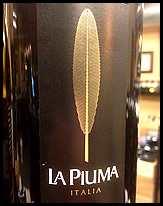 2013 La Piuma Montepulciano d'Abruzzo (Italy, Abruzzi, Montepulciano d'Abruzzo)
La Piuma in Abruzzo is committed to creating quality wines in the traditional way. When we first tasted this wine some months ago, we were impressed, and then deeply surprised when we discovered the price (very reasonable). Although, the winery was only founded in 1991, their entire line-up from Pecorino to Montepulciano has had critics Re-examining Abuzzo and the up and coming wineries in the area.

Let's begin with the grape varietal which is Montepulciano, not to be confused with Vino Nobile di Montepulciano, which is Sangiovese. Montepulciano, in the not too distant past was associated with cheap, cheerful wines, or cheap, hopelessly undrinkable wines. Today, there are dozens of wineries in Abuzzo producing world class Montepulciano.

Hand-picked in early October, de-stemmed and gentle crushed. Then into large tanks for a quick fermentation before racking into smaller tanks for aging (3-4 months). Bottling takes place in late Spring.
This wine at first seems simple; big rich clean fruit with a soft, floral finish. But give it time to open up. The wine will begin to fill out. A pleasant richness on the palate, some thyme and pepper notes, bright red berry fruits mingle with plum and violets, and fine integrated tannins round out the wine.

This is everyday sipping wine. It also pairs well with spaghetti and meatballs, to beef satay, roasted veal, and potato pancakes of all things (here's a great recipe). And it's GREAT pizza wine!
--> For our wineclub members we have a special case price of $98