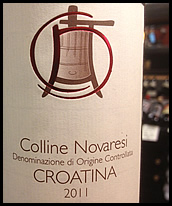 2011 Carlone Davide Croatina Colline Novaresi (Italy, Northern Piedmont, Colline Novaresi)
You won't find much about Carlone Davide and his wines on the internet. He makes tiny amounts! But what he produces is wonderful. His full-time job is a precision machinist, and in his spare time he tends his vineyards and produces about 300 cases of wine, one a blend of Nebbiolo & Vespolina called 'Boca' and this wine: 100% Croatina.

The varietal Croatina originated in Croatia in the costal region of Primorska Hrvatska (which also gave the world Primitivo and its American version, Zinfandel. Croatina has characteristics similar to the Dolcetto grape in that it tends to produce fruity, deeply colored wines that are mildly tannic and can benefit from bottle aging.

Aged in stainless steel on the skins for 10 days with malolactic following as soon as possible. No filtering or fining is done. In 2011 only 166 cases were produced.
First impressions are earth and violets. Then red berry fruit, sage, nice fine tannins, and a long expressive finish.

This is a wine that pairs well with many dishes. Pappardelle pasta with a rabbit and porcini ragu come to mind. Harissa-marinated pork ribs, grilled lamb with rosemary and garlic. If you're in Santa Barbara, take a bottle to Ca'Dario and try it with his wild boar ragu!
A Curious Anecdote about one wine from this winery