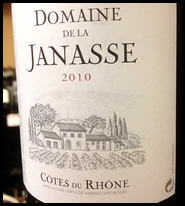 2010 Domaine de la Janasse Cotes du Rhone (France, Southern Rhone, Cotes du Rhone)
Domaine de la Janasse is one of the great winemaking estates of not only France, but of the world. It is situated adjacent to the Auto Route de Soleil opposite Chateauneuf du Pape, at the entrance to the village of Courthezon. Janasse is managed by Christophe Sabon and his sister, Isabelle. The consistency at this estate since the mid-1990s has been remarkable. Year in and year out, the wines, both reds and whites, are among the finest one will find ... anywhere!

This wine is a blend of 70% Grenache, 20% Syrah, and 10% Mourvedre. The Grenache gives this wine richness, and nice acidity while the Syrah adds depth, floral notes and texture. The Mourvedre adds power and depth, with some black pepper and herbaceousness.

This grapes are aged seperately in tanks for 4-5 months then blended and racked into neutral barrels for an additional 2-3 months. The wine is then bottled and left to rest for up to a year.
Notes of black raspberries, forest floor, truffles, roasted meats, bouquet garni, black raspberries and black currants jump from a glass. Nice texture and a long finish round out this winner.

A great wine with grilled leg of lamb. (Here's two great recipes: one from Sauveur & the other from Fine Cooking). Other dishes this wine will pair well with are shepherds pie, beef empanadas, braised oxtail, and cheeses such as manchego, petit Basque and caciocavallo.