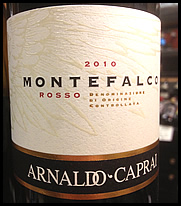 2010 Arnaldo-Caprai Montefalco Rosso (Italy, Umbria, Montefalco)
In 1971 Arnaldo Caprai purchased vineyard land and settled on the sleepy hilltop hamlet of Montefalco. This is where he discovered Sagrantino. He took this grape and brought it to the attention of the world through his award winning wines and tremendous personality. In 2012 Arnaldo-Capri was named European Winery of the Year. To this day Montefalco is the only place in the world where Sagrantino is grown.

Montefalco Rosso is a blend of 70% Sangiovese, 15% Sagrantino, 15% Merlot.
The orgins of Sagrantino are mysterious. Locals believe it is indigenous. Some theorize that it was brought to Umbria by the Greeks, while others say it was brought by St. Francis of Assisi from the Middle East. A young 100% Sagrantino wine is hard to drink; huge amounts of tannins course the palate. But as a blending grape in this wine, it takes the soft, velvety layers of Merlot, and the ripe, red-berry notes of Sangiovese and adds just the right amount of tannins and structure to make a truly incredible wine. Wine of the Week in the LA Times in 2014!

Aged 12 months in Slavonian and French oak then aged in bottle for a minimum of 4 months.
Bright red cherry and raspberry with spice and a bit of smoke on the nose. Medium weight with velvety tannins. Bright Bing and Sour cherry, plum, cassis, cedar and spice on the palate. Lots of flavour complexity and finesse. Try a glass tonight, cork the bottle, and come back to it tomorrow. It will open up wonderfully.

We call this our new pizza wine. But it will also pair well with roast chicken, and charcuterie. If you happen to be going to Mozza in Los Angeles, try it with one of their pizzas, or if you have their cookbook, the pan-roasted pork chops with olive and sambuca-braised fennel (page 241). But substitute the sambuca for a rich chicken broth for a better pairing. With cheese try Asiago or a Pecorino Toscano